We got the wonderful news that we have again received the Platinum rating from EcoVadis and are among the very top 1% for sustainability performance.
Our Rating Scores
Our rating scores rose again with EcoVadis commenting that we have an "exceptional policy on sustainable procurement issues".
The score comparison below shows how we rate among others in our industry. This demonstrates the importance and value of transparency in business.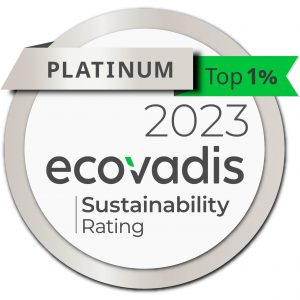 Supply Chain Development – hHelping to de-risk your business
A company needs help from its suppliers to achieve its environmental and social goals.
High standards and policies only work when the companies contracted with require similarly high standards from their suppliers and those in turn then ask for high standards from theirs, and so on.
Getting sight of this long chain is difficult. Left unchecked, the risk throughout these tiers will be much more significant.
At MaCher, living by our values of being a purposeful business means we are doing all we can to make sure our supply chain is transparent and robust. This is not just to earn the trust of our clients. We want to be the best pro-active partner in helping them progress in their sustainability goals.
The EcoVadis Award validates supply chain sustainability
EcoVadis is a global supply chain sustainability tool. Its assessment evaluates 21 sustainability criteria across four core themes: Environment, Labor & Human Rights, Ethics and Sustainable Procurement. More than 100,000 companies globally have been rated by EcoVadis.
As a Certified B Corp and being committed to developing long term supplier relationships and verified supply chains, MaCher already devotes a great deal of attention to these issues.
We completed our first EcoVadis assessment in 2021. We are thrilled to earn our third Platinum award, and to achieve our highest score yet!
About EcoVadis
The international EcoVadis assessment rates companies on their sustainable performance and corporate social responsibility (CSR). The valuation gives companies and organizations the opportunity to compare suppliers in terms of sustainability, environmental impact and social and ethical working. It uses international CSR standards such as the Global Reporting Initiative, United Nations Global Compact and ISO 26000.