We make better things, to make things better.
Environmental & Social Responsibility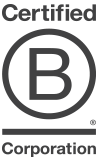 We exist to positively influence others, using our business as a force for good. We have been a certified B Corp since 2014, balancing purpose and profit with a focus on helping other businesses reduce their environmental impact.
We are proud to have been honored by B Lab as a Best for the World Changemaker in 2017 and 2018.