Albert Einstein famously said "The important thing is not to stop questioning. Curiosity has its own reason for existing".
On the back of our curiosity test with sales prospects, we decided things one step further.  We wanted to create something that would combine curiosity with anticipation.  We had a great opportunity when we were asked to help support the launch activities for the new Norwegian Prima cruise ship.
Our challenge
NCL sent out Invitations for the ship launch in Iceland. The NCL team also wanted to find a way to include other trade media, journalists and those unable to make the trip..While not invited to the launch, these media were still hugely influential in their own markets.
NCL planned an exciting online event. Our job was to help create inclusion and anticipation for those who couldn't make the launch as well as the next tier.
Amplifying excitement and connection
To help raise the anticipation and excitement of the online ship launch event, we used the idea of a locked box.
A beautiful box made from FSC certified wood was sent two weeks before the event. It was locked with a message telling people that NCL wanted them to help share in the celebration. The message also said that a code would be emailed to them in on the day of the launch.  Inside the box was an array of locally made goodies all fit for watching Katy Perry christening the new NCL Prima ship.
Social media lights up and leaves a positive glow
Brands are excited for a single bump in organic social media from an engagement program. The locked box created two significant spikes. The first driven by curiosity when the boxes arrived and the second, two weeks later, when the code was emailed. Videos of the box shared all over YouTube, Facebook and TikTok drove anticipation of the event and excitement for the ship well beyond those planning to attend the event.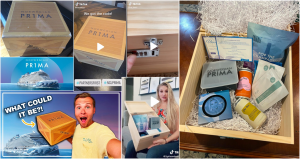 Are you curious to know more?  Contact MaCher for more ideas on how to use these behavioral insights to drive your business.