January celebrates National Mentoring Month. With our non-profit partner, Creative Futures Collective, we have been able to meet and support talented individuals and build powerful relationships.  Meet two of our recent mentees…
Adina Farinango is a Kichwa Artist using art as an act of resistance, healing, and self-expression. Her work is heavily influenced by the resilience and strength of matriarchs in her community, past, present, and future. Adina hopes to bring more visibility to Indigenous people and to uplift other Indigenous youth to create their own stories. Her illustrations navigate and strengthen her identity as an urban Indigenous woman part of the Kichwa diaspora.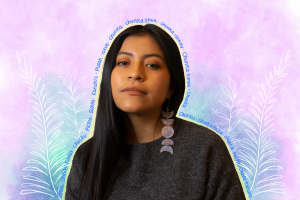 Sherrae Rucker is visual artist working across photography, post-production and digital collage. Growing up as a queer, afro-indigenous woman in Kansas, Sherrae used art a form of escapism. Through her artistic journey, she has dedicated herself to using art to facilitate a sense of community between people of all backgrounds. She likes to create a sense of dream-like nostalgia that looks like moments from a larger narrative for viewers to fill with their imaginations.
Neither had worked with a mentor before…
What did you expect from a mentor? 
Adina – In the past it's been hard for me to ask for help or ask questions because I thought I could figure it out myself. I expected help in trying to break those barriers for myself and being able to learn from someone who is more knowledgeable/passionate in their field.
Sherrae – I didn't know anyone who had been fortunate enough to have a mentor. My general idea of it was someone in my industry that could show me the ropes of what an established artist's world would look like. I was also hoping for someone who would be there to answer any questions.
What value has mentoring brought you?
Adina – Mentoring has allowed me to gain more confidence in the future, have a better understanding of what I want to do career-wise and how I can get there. For young professionals, sometimes it's difficult to see the future. Having a mentor opens up opportunities that we might not see ourselves.
Sherrae – Being mentored by Gen has been more than I could have imagined. She has been so supportive, encouraging, and always makes me smile. I feel like I've gained a friend. I've met incredible people through her who have answered my questions and have given me so much insight. I feel like I've truly grown out of the novice stage and into a professional.
From your experiences through mentoring what will you apply to your life?
Adina – Everything! I've learned that communication is important in all spaces. Being able to connect and learn from people is something that I knew before but only knew the scale of importance of it recently.
Sherrae – Pushing for what you deserve. Pushing for the salary you want, being unafraid to reach out to people, and following up to get answers.
From your perspective, what characteristics should a mentor have? 
Adina – Since this is my first time being mentored, Gen has set the bar high! She's very helpful, responsive, straightforward and easy to talk to. I feel like I can ask anything or ask for an opinion and she will have an answer that would better guide me.
Sherrae – They should be approachable, humble, dedicated, and understanding. Mentees need someone easy to talk to and who doesn't spend the whole session tooting their own horn. Being dependable is also important as is being understanding. We all come from different backgrounds with different levels of access to the professional world, creative tools, and availability of time.
From your perspective, what advice do you have for someone (like yourself) who is being mentored?   
Adina – I would say don't be afraid to ask questions! You don't lose anything by asking and your mentor just wants to help. If they don't know the answer, maybe they know someone who will.
Sherrae – Make the most out of this relationship. It's invaluable. Come prepared to each meeting with something you'd like to discuss – like personal projects, job search questions etc. Or questions that you have about an industry in general. Don't be afraid to ask for introductions.
What are your plans for 2022 and beyond?
Adina – I'm so excited for 2022! I have so many ideas and energy that I want to implement in my work. I hope to create more meaningful art as well as to collaborate with brands/people that also are passionate about bringing Indigenous visibility through our own narrative.
Sherrae – I want to hone the skills that I already have and learn new ones. I'm going to push my creativity into a new dimension and get comfortable creating in 3D programs.
Take action!
See more of Adina's work on Instagram.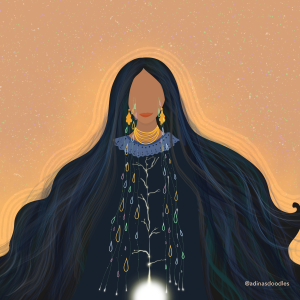 See more of Sherrae's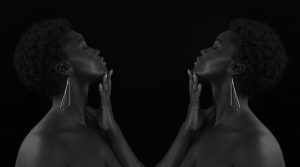 Speak to the Creative Futures team about how you or your company can get involved in mentoring.
Speak to MaCher about how to go about setting up and supporting mentoring schemes.
Make better things to make things better